Featured LCGC Interviews
The Kendrick mass defect combined with liquid chromatography quadrupole time-of-flight mass spectrometry (LC–QTOF-MS) can offer a variety of benefits to analysts investigating groundwater contamination. The Column spoke to Thomas Borch from Colorado State University in Colorado, USA, about his work in this area to find out more.
LCGC Slideshows
Seven outdated traditional practices that should not be performed without considering alternative approaches that can improve results, provide lower operation costs, or give faster run times. Instead of working harder, analytical scientists should work smarter. Learn more by clicking through the slideshow.
Webster's New Collegiate Dictionary defines a myth as "an ill-founded belief held uncritically, especially by an interested group." Could that group be misinformed chromatographers?
Sample Preparation Techniques
Partner Organizations
Sepu, China's Largest Chromatography Training Site
Chinese American Chromatography Association (CACA)
ChromAcademy
LCGC Blog
By Tony Taylor
Tony Taylor provides an exercise to highlight the ease with which instrument error in our data can be estimated when using methods involving linear regression. He also discusses the importance, under certain circumstances, of our clients (internal or external) and us being aware of the true precision of our data.
We recently published a study of water quality from 550 water wells in the Barnett Shale of North Texas. Using a suite of analytical techniques, we were able to find new evidence of the potential impact of unconventional natural gas extraction on environmental quality.
LCGC eBooks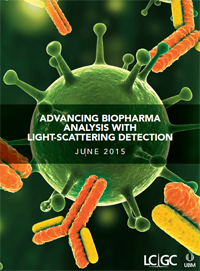 Advancing Biopharma Analysis with Light-Scattering Detection
To characterize biopharmaceuticals, particularly monoclonal antibodies and antibody–drug conjugates (ADCs), you need a complete toolbox of powerful tools. You are probably familiar with LC–MS methods. But have you seen what light-scattering detection can do?