Featured LCGC Interviews
The development of novel microfluidic systems opens up new opportunities to quantify clinically relevant biomolecules to further the understanding and diagnosis of disease. The 2015 recipient of the AES Mid-Career Award, Adam T. Woolley, from Brigham Young University, Utah, is working in this area to develop novel and sophisticated integrated microfluidic systems for enhanced biomarker quantitation and quantification. He recently spoke to LCGC about this work.
Sample Preparation Techniques
Partner Organizations
Sepu, China's Largest Chromatography Training Site
Chinese American Chromatography Association (CACA)
ChromAcademy
LCGC Blog
Using electrospray ionization mass spectrometry (ESI-MS) to perform quantitative binding analyses and determine association constants depends on the ability of the ionization process to preserve the system equilibrium. If association or dissociation kinetics are relatively fast, then the shrinking-droplet ESI process can alter equilibria. This is not good for studying noncovalent complexation in solution, but it is central to the success of a technique called paired ion electrospray ionization (PIESI).
By Tony Taylor
If you use SPE in your work, then most likely it's very important to the success of your applications, and its proper implementation will be key to the performance of your analyses. In an effort to help you develop a better understanding of the technique, LCGC blogger Tony Taylor offers eight steps to solid-phase extraction success.
LCGC eBooks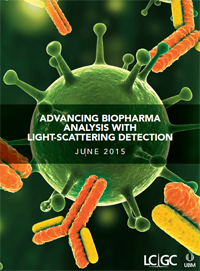 Advancing Biopharma Analysis with Light-Scattering Detection
To characterize biopharmaceuticals, particularly monoclonal antibodies and antibody–drug conjugates (ADCs), you need a complete toolbox of powerful tools. You are probably familiar with LC–MS methods. But have you seen what light-scattering detection can do?