Featured LCGC Interviews
Researchers at the University of Waterloo in Canada are collaborating with clinicians at Toronto General Hospital to develop preclinical and clinical applications of solid-phase microextraction (SPME). Bethany Degg of The Column spoke to Barbara Bojko from the team to find out more.
Sample Preparation Techniques
Partner Organizations
Sepu, China's Largest Chromatography Training Site
Chinese American Chromatography Association (CACA)
ChromAcademy
LCGC Blog
Using ESI-MS to perform quantitative binding analyses and determine association constants depends on the ability of the ionization process to preserve the system equilibrium.
By Tony Taylor
If you use SPE in your work, then most likely it's very important to the success of your applications, and its proper implementation will be key to the performance of your analyses. In an effort to help you develop a better understanding of the technique, LCGC blogger Tony Taylor offers eight steps to solid-phase extraction success.
LCGC eBooks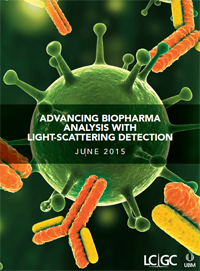 Advancing Biopharma Analysis with Light-Scattering Detection
To characterize biopharmaceuticals, particularly monoclonal antibodies and antibody–drug conjugates (ADCs), you need a complete toolbox of powerful tools. You are probably familiar with LC–MS methods. But have you seen what light-scattering detection can do?